CFD Analysis of Flow within Stirred Tank Reactor
Category :
Industrial Projects
Project Code :
EDU-PRJ-PG-CFD-006
---
Overview
| | | |
| --- | --- | --- |
| Industrial Projects | 6.5/10 | Chemical & Process |
| 5 Months | M.E/M.Tech./M.S. | ANSYS ICEM CFD & FLUENT |
---
Mixing and separation are among the most commonly found operations in the chemical and process industry. An important tool in the mixing industry is the stirred tank. The stirred tank is used in stirred tank reactors. The stirred reactor is used to give good mixing and uniform dispersion of catalyst particles in the reaction thus ensuring uniform quality of product. 
What is a stirred tank reactor?
A stirred tank reactor or a stirred reactor is a tank which has one or more impellers. This is used to generate flow and mixing when the impellers rotate. Stirred tank reactor is among the most widely used reactors in chemical and process industry. They offer high flexibility and control over transport or reaction process happening within the reactor.
Application of stirred tank reactors
Different types of stirred tank reactors are available. Common types are multiphase stirred reactors, stirred reactors with gas inducing impeller, and stirred reactor with helical ribbon impeller. Their application depends on the types of fluid systems they can handle. For example, the only liquid handling stirred reactors are used for alkylations, sulfonations, esterifications, bulk and solution polymerizations. The gas-liquid type of reactors are used for oxidations, chlorinations, carbonylations, esterifications, manufacture of sulfuric acid, adipic acid and oxamide. The gas-liquid-solid type are used for hydrogenations, solid oxidations, fermentations, waste water treatment etc. The liquid-solid type is used for production of calcium hydroxide, regeneration of ion-exchange resins, anaerobic fermentations. The liquid-liquid type is used for suspension and emulsion polymerizations while the gas-solid stirred reactor is used for stirred fluidized beds. 
Role of CFD in stirred tank reactor design
Design and analysis of stirred tank reactor involves many steps. Some of the steps involve understanding process requirements, preliminary configuration of the reactor, and reactor sizing for different values of relevant transport rates or operating parameters. If all these steps are carried out using only laboratory studies or experiments then it may result in lot of design iterations. Use of CFD analysis to simulate stirred tank reactors can help a lot in design iterations and result in a more efficient and rapid design process. CFD can play a major role in below area of stirred tank reactor design. 
Reaction engineering models for simulating reactor performance

Resolving conflicting process requirements

Scale-down/scale-up analysis

Testing new reactor concepts
---
Learning and Skill Sets Required
---
The execution of this project demands the following theoretical knowledge: 
Fluid Dynamics: CFD is based on Fluid Dynamics equations. It is very important for student to be comfortable with governing equations of fluid dynamics to do CFD simulation and interpretation of CFD results.
CFD Fundamentals: CFD Fundamentals is studying about the governing physical equations, and how the fluid flow problems are solved on computers using numerical methods, the backbone of any CFD code.  Students who use commercial CFD software to complete their project works, often refer to user's manual or tutorial guide, to make a choice of numerical technique, or turbulence model, or the type of boundary condition to apply. But most of the tutorial guides let them down, by not providing sufficient explanation of the theoretical background and justification for using a particular numerical scheme for the given problem. So, knowing the fundamentals of CFD becomes very important in the process of using CFD as a tool for design analysis.
The execution of this project demands the following CFD software skills:
ANSYS ICEM CFD: This is pre-processing software that can be used for Mesh generation, which is nothing but a discrete representation of the geometry. Also, ANSYS ICEM CFD has advanced CAD/geometry readers and repair tools to allow the user to do the CAD cleanup work. In this project, ANSYS ICEM CFD will be used to do CAD cleanup and generate structured hexahedral mesh or tetrahedral mesh. So, the knowledge of the software GUI, CAD tools, and meshing in ANSYS ICEM CFD is important to work in this project.
ANSYS FLUENT: This is as simulation tool that contains the broad physical modeling capabilities needed to model flow (single/multiphase), turbulence, etc. This simulation software allows one to predict, the impact of fluid flows on the design or vice versa. Also, it has post-processing tools to extract simulation results and understand them. In this project, a turbomachinery flow model along with particulate flow model will be used. So, knowledge on the software GUI, solver set-up, application of turbomachinery and multiphase flow models, visualization techniques, are compulsory to work on this project.
Multiphase flow modeling: This project involves modeling multiphase flow within the stirred tank. For such flow analysis it is essential to know how to select and apply multiphase flow models for simulation of flow inside the tank.
Turbomachinery flow modeling using ANSYS FLUENT: As the project involves flow around a rotating impeller inside the tank, one must know how to select and apply a turbomachinery or rotating machinery flow model to simulation such a flow.
---
Necessary LearnCAx Courses
---
Students opting for this project will have to go through online courses suggested by the LearnCAx mentor. This is to learn the required skillsets before starting the project work. Following are the two LearnCAx courses required to execute this project.
The access to these courses will be provided to the student as a part of the mentoring program and the validity of access exists till the project completion. 
Project and domain specific knowledge is not included in these courses. The courses are designed to teach CFD methods in-general. The application of knowledge acquired through these courses to this specific project has to be done by student. During project execution stage, mentor will guide student to apply the course(s) knowledge for executing the project. Some of the project or domain specific training might not be directly covered in above courses. Mentor will provide necessary guidance to students about from where they can acquire the project specific knowledge.
---
Who can take the project ?
---
Complexity Level -  8.5/10 (0-Low; 10-High) : 

This project involves, generating hexahedral or tetrahedral, turbomachinery flow modeling, and some complex post-processing work at the end. Based on the efforts involved and the machine run time the complexity of this problem falls on the higher side of the bar.

Project Level - M.E./M.Tech./M.S. : 

Generally, any Flow problem that involves additional physical models like Heat transfer models, Multiphase models, Rotating machinery related models, Dynamic mesh models, etc…, we consider it as M.E. level project. In this project we are simulating a 3D unsteady multiphase flow inside a tank with structured hexahedral mesh. So, the level of the project is best suited for the post graduate students.

Duration - 5 Months : 

Assuming the student can spend 2-3 hours of time per day and considering the amount of work involved in both learning (2 months) and working (3 months) on the project, we feel this project can be completed in 5 months. This duration might vary based on the amount of dedicated time, the student spends on the project work.
---
Benefits for students
---
Your academic project is one of the most important aspects of your degree. It is so important that it always decides what's going to be next for you. Let it be higher studies or industrial job, the whole career path is based on the project work. With fierce competition powered by a rapid change in the world economy, every graduate/post-graduate is fighting a tough career battle today in the job market. All students look for an initial breakthrough in their careers and each one of them requires a good educational qualification complemented with a good project work.
Knowing CFD software is one important aspect for being CFD engineer, but using the CFD software for solving complex industrial problem is must when it comes to paving your path for career as CFD engineer. 
This project will particularly help you establish a CFD modeling expertise in the field of multiphase flow modeling particularly particulate flow modeling. Utilizing these early expertise, the project will help you gain a head start from career point of view having CFD skills along with application domain expertise. Having experience of modeling multiphase flow and mixing process will open up opportunities in industry and research related to the fields like chemical and processing industry.  
Following are few in-built benefits you will get when working on this project:
Opportunity to work on challenging projects of chemical industry 

Opportunity to present project work and get reviews from industry experts

Project certification done by industry

Opportunity to learn non-technical aspects of project execution followed in industry

Opportunity to sharpen the domain expertise and shape future career path
This project is to be executed using ANSYS ICEM CFD and ANSYS FLUENT software. Working on this project will give you exposure to ANSYS FLUENT particulate flow modeling techniques and will open large number of opportunities in industry.
Photo:
Add a photo
Project Details
Mentor Project Details
When a liquid-solid stirred tank is used, the critical aspect during design is the distribution of solid catalysts. It is important to know the optimum speed of rotation which will give a uniform dispersion of catalyst particles. In this project we will apply a CFD based approach to simulate the liquid-solid flow in a mixing tank and predict the particle distribution using CFD. This distribution or suspension of solid particles in a stirred reactor is a key parameter in various industrial processes like production of pharmaceuticals, fine chemical, and paper and food products. The distribution of solid particles affects the final product quality as well as production time and efficiency. This is because it controls the reaction rates. The distribution of solid particles is depended on two variables. First is the impeller speed and second is the cloud particle height. In this project we will also focus on variables like 'just suspended condition' and 'cloud height'. 
---
Objective of the Study
---
The main objective of this study is to produce a validation model for simulation of stirred tank reactor flow. The process under consideration is of liquid-solid flow in a stirred tank reactor. The solid is in particulate phase and predictions are to be carried out on particulate distribution in this mixing flow. The validation will be based on prediction of particulate distribution. Results should be validated with respect to available experimental results or results from another validated simulation study on similar setup. Three different simulation studies are included in this project.
Validation of a constant rotational speed stirred tank liquid-solid flow

Simulation for two different rotational speeds to predict effect of rotational speed on particulate distribution

Simulation for two different solid concentration to predict the effect of solid concentration of the particulate distribution
For simulation Navier Stokes flow equations in ANSYS software will be used.  The project will also involve application of three advanced flow models. These are turbulence flow models, multiple reference frame rotation model, and multiphase model. 
---
Project inputs to be shared with students
---
LearnCAx discussed with the CCTech team to extract the inputs required for the execution of this project. These inputs will be shared with the students before they start with the project work. Following is brief information on the project inputs and how to use them. 
Geometry: Students will receive details of drawing of a stirred tank reactor. They are expected to generate a 3D CAD model from these drawing using either ANSYS ICEM CFD or any other CAD software. 
Material properties: Students will be provided with a pool of literature from which they need to extract. This literature is part of various stirred tank reactor studies which CCTech uses for reference and benchmarking studies. 
---
Expected deliverable from student
---
Once the project is completed, student has to submit the project report to CCTech who offered the project. The findings from the CFD simulation will be used by CCTech for their future work. A panel of LearnCAx and CCTech team does the review of work done by student. So, the following deliverables are expected from the student.
Project Report
A project is closed only after student submits the report and it gets reviewed by review panel. The report should be in word format and expect to provide the project details starting from the problem description, validation case details, & results, CFD domain, meshing details, solution strategy, solver set-up, results, and conclusion at the end. An overview of the expected content is provided below.
Introduction: A brief introduction to the project domain along with the need for the study is expected in this section.

Project Overview: In this section, explain in detail about the project or the problem and also specify the objective of the problem.

Validation Case Details: This will showcase results of validation study. Validation should be preferably carried out with experimental results or with validated CFD results of a similar stirred tank problem. The report should include details about the reference paper, problem definition, geometry, mesh, solver setup, results, and the learnings from the validation study. 

CFD Domain: Student can add images of the given CAD model and extracted CFD domain after cleanup. 

Meshing: Provide details about the type of mesh used, cell count, mesh quality, images of surface mesh and cut plane showing volume mesh.

Boundary Conditions: Details of boundary conditions and various assumption used for deriving boundary conditions should be included 

Solver Set-up: Details about the turbulence model, turbomachinery flow model, and numerical discretization schemes used to capture the flow physics should be provided.

Results: This section of the report may have details of convergence, machine run time, and most importantly the CFD results. Results include both qualitative and quantitative. The results should be provided for all three studies along with the main validation study. 

Conclusion: Finally end the report with a summary or conclusion of the result analysis. 
Files to be submitted
All the necessary files related to this project are to be submitted to the company for their future reference. This includes both ANSYS ICEM CFD and ANSYS FLUENT associated files, as listed below.
Geometry : .tin file

Blocking : .blk file

Mesh : .uns file

Simulation : .cas and .dat for all simulation in all the three studies

Journal files used for saving images : .jou (if any)
Mentor
Mentor Project Mentor
LearnCAx mentor program connects Students, Mentors, and Industrial/University Projects together. Through this unique program, we give an opportunity for students to work on challenging projects offered by industry or assigned by your university. Main aim of LearnCAx mentor program is to give all necessary knowledge and guidance to students, so that they can work on challenging projects. For success of this program, it is very critical for students to understand how this program works, what is role of LearnCAx mentor, and what is role of student.
To get an overall idea about LearnCAx mentor program, visit Overview and How it Works? articles.
Every project has different challenges and requires specific domain expertise. LearnCAx has team of mentors. Every mentor has expertise in CFD and large work experience in executing industrial projects. They have developed domain experts in specific domain by executing industrial project in the domain for more than 5 years. When you enroll for LearnCAx mentor program, you get a dedicated mentor. Mentor is decided based on the project definition and required expertise. 
The complete LearnCAx mentor program is based on the theme of "Learn – Try – Execute". This is student centric approach, where it is expected that student would learn and acquire all required knowledge, try the knowledge on simple problems and then execute the project. LearnCAx mentor is a guide/mentor who will be with student during every phase, let it be learning or executing the project. Mentor will provide all required guidance to student enrolled for this program. 
Following are the few responsibilities of LearnCAx mentor:
To check if project is feasible using CFD or not

To design the learning path for students which will include required courses and domain knowledge

Guide student to break the project into intermediate stages

Guide student to make required assumptions and simplify the problem

Guide student during their learning phase

Guide student during the project execution phase

Review the project work at regular intervals

Review project work and provide feedback
Our main focus is to give student a working experience on challenging project. Student will execute all the stages of project by acquiring required skill sets. Mentor will provide necessary guidance. Following are few things LearnCAx mentor will not do:
Provide customized training specific for the assigned project

Work on any of the project execution stage including meshing and simulation

Prepare the project report/presentation
Certification
Mentor Project Certification
---
About Company Offering this Project
---
This is an industrial project offered by Centre for Computational Technologies Pvt. Ltd. (CCTech). CCTech is a venture started by a group of IITians and industry professionals with extensive experience in CAD/CFD application, development, and testing. The average experience of a CAD/CFD professional at CCTech is more than 6 years. Members of the advisory board and principal consultants are specialists in various applications of CAD/CFD, empowering CCTech to handle complex CAD/CFD problems.
CCTech has always taken new challenges in terms of problem complexity and project time lines. It has successfully carried out various projects in high speed aerodynamics, HVAC of automobile, data center cooling, analysis of automobile defrost and ventilation ducts, volute design for pump, fluidized bed simulation, soot formation in IC engines etc.
This project is offered by CCTech's CFD consultancy division. CFD consultancy division offers design, analysis and optimization services for various industries and successfully completed more than 100 projects. With its quality of work and capability of handling challenging project, CFD consultancy division is one of the preferred choices for many industries including automobile, heat exchanger, and control valve manufacturers, oil & gas design and consultancy firms. Working on this project will give you an opportunity to work with expert engineers in the CFD consultancy division and it would be unique learning experience. To know more about the company, visit www.cctech.co.in
---
Assessment Process
---
This project will go through two levels of assessment. The first level of assessment will be done by project mentor. Second level of assessment will be done by review panel from Centre for Computational Technologies Pvt. Ltd. (Company offering this project). The assessment process is designed to make sure that a student has gone through all the necessary learning and project execution stages. The assessment process is also designed to grade the project work for quality of work done by student.
Project mentor's assessment is a continuous monitoring process. The assessment process is designed to make sure that student executes each and every stage of project successfully with desired output and learning. Project mentor will do assessment at following stages:
Learning done by student to make sure that student has acquired skills to execute the project

Literature survey and problem understanding by student to make sure that student has understood the complexity of project and knows the execution path

Geometry and meshing techniques used to make sure its quality

Simulation and methods used to make sure that it will satisfy the objective of simulation

Project report review and presentation to make sure that the project objectives are satisfied
After completion of project, the final assessment and review will be done by team from Centre for Computational Technologies Pvt. Ltd. The review will be done based on the project report submitted by student. The project work will be graded based on following criteria
Aim and objective of the simulation work done by student

Geometry and physics simplifications done by students and its validity

Meshing method used, cell count and its quality

CFD models, boundary conditions used and its validity

Agreement of CFD results with data available with CCTech

Simulation results and student's interpretation about the results
---
Certification
---
After successful completion of the project, student will get a certificate issued by Centre for Computational Technologies Pvt. Ltd. This industrial project certificate will add a great value in student's profile and will lay a foundation for their career in CFD domain.
Student's project work will go through a rigorous review process set by CCTech. A review team will grade students work and assign grading out of 10. CCTech will give a project completion certificate with acquired grade to the student.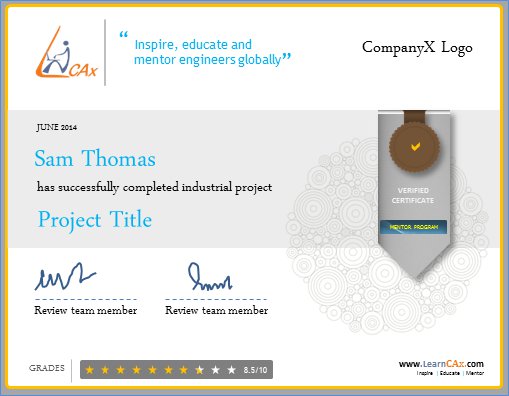 FAQ
Mentor Project FAQ
1. I don't have a chemical background. Is using multiphase modeling in ANSYS FLUENT, demand that?
Working on this project doesn't require much of a chemical background. All the necessary knowledge for using multiphase model in ANSYS FLUENT are covered under the course.
2. My project submission date is nearing and I have less time than the duration mentioned on the web page. I want guidance from mentor to complete this project first and then I will learn the courses. Is it possible?
The time duration mentioned is for a student with average learning capabilities, spending 2-3 hours a day. If you can spend more time on a day, the total duration of the project might get reduced. But you cannot get guidance for doing the project without completing the learning process through our courses.
3. Will I get project completion certificate from LearnCAx or the company?
You will get the certificate from the company. You can appear for a test and get course completion certificate separately from us. This is independent of the project completion.
4. Why there is cost associated with this project?
Students get the projects directly from the industry or company. LearnCAx will provide the necessary knowledge and guidance to the student, through the Mentor Program, to complete the project. Student is charged for this Mentor Program. Other than mentoring, the student will be access to our CFD courses, for learning the required software skills.
5. I am from mechanical engineering background. Can I take this project or is this project only for chemical engineers?
The project has general applications in chemical related industry but as a mechanical engineering background student you are equally suitable for this project as someone from chemical engineering background. 
6. Does this project require any background knowledge of chemical reaction kinetics?
No. Although this project involves a stirred tank reactor, the project it concerned with application of CFD only for flow modeling and not reaction modeling. Hence you do not need any background of chemical reaction kinetics.  
7. Will you provide literature for validation during the project? 
The mentor will guide you on various important aspects required for literature collection and also provide sample literature pool. But it is expected that you carry out extensive literature survey during your project. 
8. You have mentioned that the project is for ME or MTech or MS students. I am a BE or undergraduate student, can I do this project?
Ideally this project is for ME/MTech level students. If you are a BE student you will need more time than the mentioned project duration. If you are interested in the project and have 8 months to an year to work on the project then you can consider this project.  
9. We are a group of 3 to 4 students. Can we as a group work on this project?
No. This project is for a single individual only. A group of student cannot take this project.
10. As a undergraduate or BE student can I do this project individually?
Yes. If you are an undergraduate or BE student having interest and appropriate time and background required for this project you can take this project. But you will need to do this project individually and not in group. Also as this is a ME level project, you should expect that it will be challenging at BE level. A BE level student must have at-least an year to work on the project.


Reviews