---
The 3A's for True Democratization of Education
---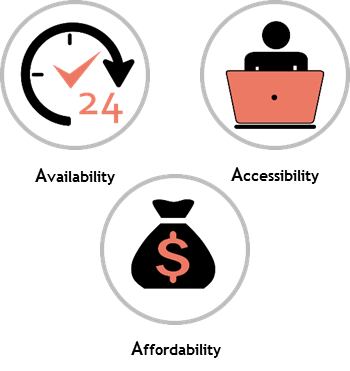 Availability of CFD knowledge has seen many paradigm shifts. During very early phase of CFD, it was used as a research tools and knowledge was available and accessible to very few. Thanks to industrialization of CFD usage and its spread, CFD skill is now considered as one of the "must have" skill for engineers rather than "good to have" skill. The availability of career opportunities has flourished many institutes and training centers across the globe which offers CFD training. This has made CFD knowledge available to many engineers.
There are still two main barriers that needs to be addressed for "True democratization of CFD education". Accessibility and Affordability. Traditional brick-and-mortar (classroom) training puts a limitation on its accessibility. Students and professionals close the institute can make it. This also puts limitation on when one can go for training and forces students to go for acquiring such skill sets after their academics due to physical location of such training hubs. The second and in my opinion the biggest issue is affordability. The average cost of any professional CFD course is in the range of 400 to 600 USD. In few cases, the cost goes as high as 2000 USD. This is lot of money for one who is in academics and definitely becomes a deciding factor for many who are looking to acquired CFD knowledge.
So in true sense, if we want to democratize CFD education, it should satisfy 3 A's. It should be easily Accessible, should be Affordable and should be always Available in the form where one can learn at their comfort.
---
LearnCAx and the 3A's
---
Since the inception of LearnCAx in Feb 2011, its main motive is to inspire, educate and mentor engineers globally. Since 2006 to 2011, CCTech (parent company of LearnCAx) offered conventional classroom training which was taken by more than 800 students. But this was still a very small number as compared to number of students looking for such training. To address the accessibility and availability issue, in 2011, CCTech decided to convert all its knowledge hub in set of industry oriented online CFD courses and launched it under education brand "LearnCAx". This made CFD education accessible across the globe and available 24x7 for students. The course reach and enrollment increased, but still was limited to those who could afford it.
On 23rd April 2015, LearnCAx joined Massive Online Open Course (MOOC) and made all its courses FREE. This was a huge step in the way CFD education is imparted to students. The step was taken to make sure that CFD education becomes affordable to each and every individual interested to acquire CFD software skill sets and get ready for CFD career.
---
Following the right path
---
The results of last one month are prodigious. In just 1 month, LearnCAx received 1786 course subscriptions from 17 different countries and distributed 0.7 million USD worth courses for FREE. Following is the statistical data from 1st May 2015 to 31st May 2015.
| | | | |
| --- | --- | --- | --- |
| | 1786 course subscribers | | Subscribers from 80 countries |
| | 2,57,334 minutes of learning | | 318 enrollments for most popular course |
Courses based on ANSYS software has received highest number of enrollments. Course on STAR CCM+ has seen exponential growth with more than 100 enrollments in a month. Students have also shown great interest in learning fundamentals subjects like aerodynamics and basics of CFD.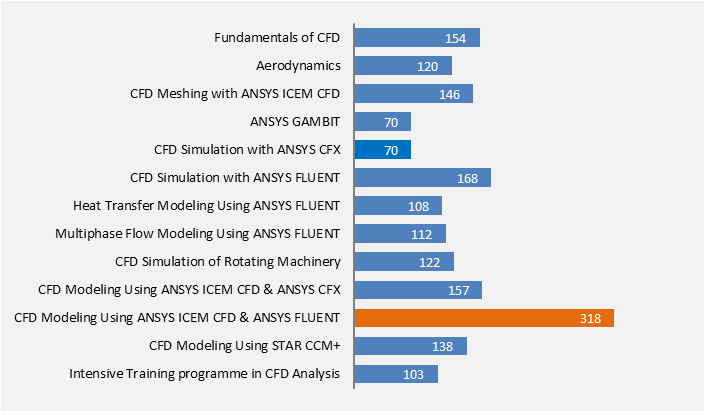 CFD course subscriptions from 1st May 2015 to 31st May 2015
The courses are well received by both students and working professionals. Following is the list of few institutes and industries. (The data is based on google analytics network data from 1st May 2015 to 31st May 2015)
---
Universities and Institutes (View full list)
---
| | | |
| --- | --- | --- |
| Massachusetts institute of technology | Imperial college London | University of Cambridge |
| University of Michigan | The university of Manchester | The university of Melbourne |
| Hong Kong university of science and technology | University of Glasgow | University of Sheffield |
| Indian Institute of Technology | Indian Institute of Science, Banglore | National Institute of Technology |
| Chalmers University of Technology | University of Pittsburgh | Purdue university |
---
---
| | | |
| --- | --- | --- |
| National Aeronautics and Space Administration (NASA) | Dassault systems India | Ford motor company |
| General motors corporation | ANSYS Inc. | CD-adapco India |
| Eaton corporation | Siemens corporation | Jaguar land rover |
| The Boeing company | Honeywell Inc. | Infosys |
This is the first milestone and there still lot to be done. LearnCAx plans to bring more software courses under single learning platform. This education platform needs to be supported by both student community and software providers. To make student's learning really effective, software companies' needs to come forward to provide easy software access to students as well as course creators.
Know-how barrier is considered as biggest hurdle in CFD field for very long time. LearnCAx is making its best efforts to break this barrier and make CFD knowledge accessible, available and affordable to each and every engineer across the globe.
---
The Author
---
Vijay is COO and Co-Founder of CCTech & LearnCAx. Vijay's major contribution in professional career is growing CCTech from team of two people to group of 30 technologists and now CCTech is a preferred partner to many engineering industries. At CCTech, Vijay look after business development for CFD division and a member of technical review committee.

Since beginning of Vijay's professional career, he has passion for education. At CCTech, he conceptualized a unique training program on CFD which was then taken by more than 500 students and most of them are now working as CFD analyst in industry. This program is now considered as benchmark for classroom training. The same passion caused birth of LearnCAx, an online education brand of CCTech. LearnCAx is first MOOC platform dedicated for CFD education.

Prior to CCTech, Vijay worked with ANSYS India (formerly Fluent India) in FloWizard development team. Vijay hold M.Tech. in Aerospace Engineering from IIT Bombay.
---