Career Path to CFD Engineer
---
In recent years, there has been growing interest by various engineering product companies to perform design simulation studies at different stages of product development to compete in the market. This has consistently resulted in increased requirement of skilled CFD resources and proving to be  a very good career opportunity for engineers aspiring to make a career in the interesting domain of heat transfer and fluid flows. However there seems to be a widespread confusion in the student community as to what skills are desired by these industries for a fresher to qualify.
---
Apart from the few fortunate ones who make it to graduate through premium institutes (for e.g. IITs/ IISc, in India) are aware about the career path and directly make it through campus recruitment as a CFD engineer/ analyst, the journey for the remaining majority remains a challenging dream to pursue. The option then remains for these later students is to either follow the conventional route available into manufacturing/ production that become too monotonous and uninteresting after sometime, or struggle undergoing a part time professional training again spending time and money. It would be great if these students are made aware about the career path and the opportunities available in the domain (CFD) at the early stage of engineering. 
As per the definition "Computational Fluid Dynamics (CFD) is the science of predicting fluid flow, heat transfer, mass transfer, chemical reactions, and related phenomena by solving the mathematical equations that govern these processes using numerical methods (i.e., on a computer)". The scope of applications of CFD thus seem to be wide in the engineering disciplines of aeronautical/ aerospace, automobile, mechanical, chemical involving primarily flow and thermal analysis studies. To have an overview of the role of CFD in engineering design one may go through the webinar by LearnCAx.
Start Preparation: 
The best time for anyone to start the preparation can be the very semester when one gets introduced to fundamental subject of the discipline like:
Fluid Dynamics 

Heat Transfer

Thermodynamics 

Transport Phenomena 
i.e. often the III semester or 2nd year engineering. This can serve as the foundation for many conceptual understanding to be developed further. One should focus on atleast the following three subjects:
Fundamentals : to understand the physics of flow behaviour

Numerical methods: to develop an understanding of how the CFD codes behave

CFD software handson: to appreciate how the numerical methods are applied to the physics of fluids
Apart from the above mentioned core subjects that are introduced in the curriculum one should also try to opt for the elective subjects or project in CFD. The project phase forms the basic training opportunity wherein one can spend good time to develop handson experience with some simple academic problem gaining more insights. In case if there are absence of faculty/ mentor in the institute one should not feel restricted to take help of professional training programs or industry internships. There are quality online training programs available that can help the student cope up learning the software skills with effective time management and affordable cost. 
Also one should remember that you cannot and need not learn everything before starting a career into CFD as it's a very broad subject however the minimum expectations that remains is to be very good at fundamentals mentioned in the above subjects. It is generally not a strict pre-requisite for a CFD engineer to hold a Master's degree unless the opening is for the position of a CFD Development Engineer. For the position of CFD Application Engineer, for which there are more job opportunities there is no such stringent condition. 
Job Profiles:
The typical profile for the development, testing or application CFD engineer positions need to have the following eligibility and skill sets:
Profile: CFD Development Engineer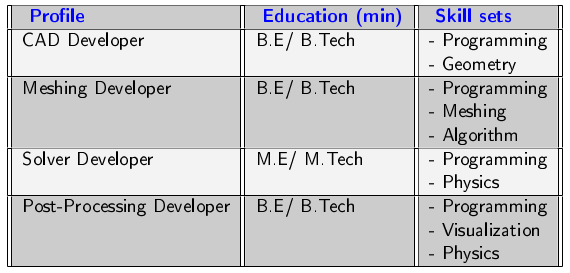 The popular softwares one may need to have exposure can be:
CAD software : CATIA, UG, ProE 
CFD Pre-processing software : ICEM CFD, GAMBIT, T-Grid, GridZ, etc. 
CFD Solver : STAR-CCM+, ANSYS FLUENT, ANSYS CFX, FlowZ, etc.

Profile: CFD Application Engineer


Profile: CFD Testing Engineer

Entry Barriers:
The typical stages one needs to go through the selection process for the job profile of  as CFD Engineer are as follows:
Resume Shortlist :
One should always remember the position he/ she seeks. The resume should speak more about the specifications matching the  requirements and may be this would require the reverse approach planning at early stage. The seminar and project work done in Bachelors or Masters Level can be the topic to describe in greater detail as would be of relevance or direct interest for the hiring company. Companies generally look out for:
University/ Institute
Grades in UG/ PG
Project or Seminar worked
Industry Internship
Publication work
Though the industry internship and publications are not a compulsion in the engineering curriculum definitely add weightage to your resume as they indicate your industrial exposure, project management and communication skills. One can also expect to invite maximum questions in the interview session (if qualified for) from the data mentioned in resume and hence should be seriously considered.
Written Test :
The written test is the second screening after the resume shortlisting. It can be based on the range of technical subjects of engineering like;
Fluid Dynamics, 

Thermodynamics & Heat Transfer 

Quantitative 

Software test
The general attitude student can keep qualifying for this round is to keep abreast with the fundamental subjects learned in 4 years of engineering. Some organizations also do conduct software tests with some typical problem to test your skills on the software front.
Personal Interview :
If you qualify to get shortlisted and pass the written test, the technical interview round may be probably the last step to your hiring. Hence it is supposed to be the serious task wherein having tested you on the technical aspects through your written and software tests, the company is now interested to know you as a person and your understanding of the concepts that would matter your job profile. The general questions can be to know your personal attributes like subject understanding and clarity, communication skills and confidence. 
The Learning Path :
Recently there have been a great enrichment in online learning content freely available on internet from top notch Universities/ Institutes like MIT, Stanford, NPTEL (from IITs and IISC) that can be great help for the fundamental understanding of different engineering subjects. Websites like http://www.innovative-cfd.com/ and discussion forum like www.cfd-online.com can be a valuable resource to keep one-self abreast of the updates, FAQs, career guidance, job opportunities and events in the domain. The education wing of Centre for Computational Technologies, www.learncax.com, has also come up with the vision to inspire, educate and mentor students to develop skills on commercial CFD software with valuable free and premium courses based on STAR-CCM+ (offering free software licence to students*), ANSYS FLUENT, ANSYS CFX, ANSYS ICEM CFD etc. LearnCAx since 2011, has been serving global CFD education with registrations from 20+ countries from renowned Universities/ Institutes.
References:
Disclaimer: The views expressed in this blog are based on the experience I had as  Program Manager at CCTech for about 5 years. These career guidelines/ suggestions mentioned above form a brief set of eligibilities conditions that can vary from organization to organization and may not be necessarily restricted to.
The Author
---
{module [317]}
---