Cloud computing for CAE – The future certainly looks cloudy !
---
In the Computer Aided Engineering (CAE) domain, especially the Computational Fluid Dynamics (CFD) and Finite Element Analysis (FEA) have always been struggling with the limitations of usage due to lack of computing resources or limited computational power. The progress of applications in these fields always remained exclusive as if a club because of license issues or requirement of giant computers. So how does cloud computing makes a difference ?
---

Cloud computing to the rescue!
Cloud computing is just what the CAE community might be looking forward to as it gives entire flexibility of usage as well as cost. Most of the CAE vendors have developed products for HPC clusters and to provide applications for cloud computing is just another step forward. But from usage point of view it is a huge factor. In this blog we will discuss different options available for a CAE engineer if one decides to go for cloud computing, what sort of expectations to have and whether one really gets what he wants out of cloud computing with some product demos.
Open Source and OpenFOAM and Cloud !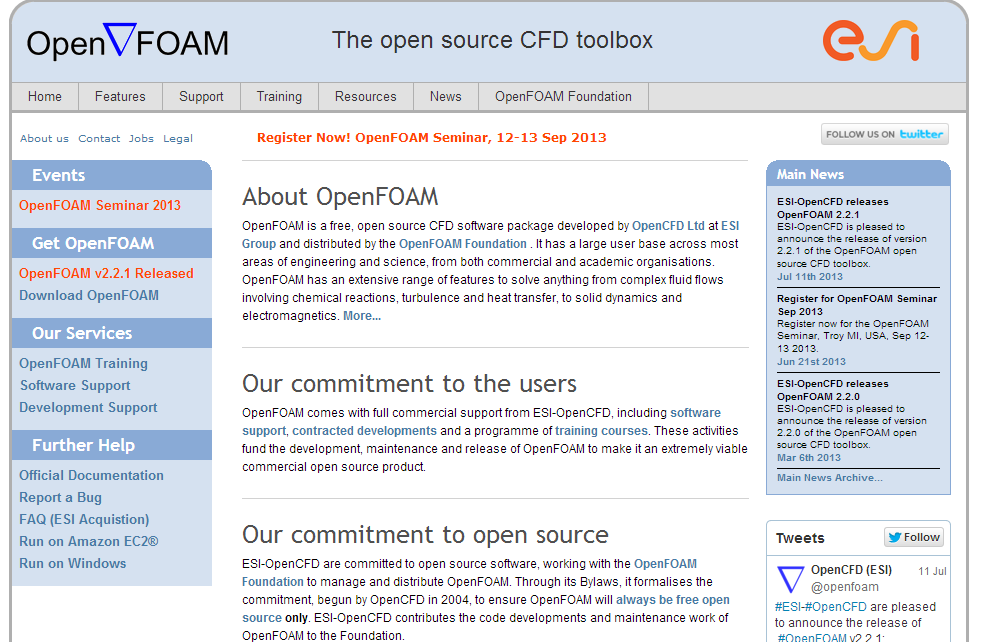 Since we are discussing options for cloud computing for CAE let us first see what the open source options available in this area are. An interesting option in cloud computing for CFD is using OpenFOAM with Amazon Cloud. The open source licensing of OpenFOAM gives users complete freedom to run the software on any platform of their choice. That includes a cloud computing service, such as Amazon Elastic Compute Cloud (EC2)®
OpenFOAM is a free, open source CFD software package developed by OpenCFD Ltd at ESI Group and distributed by the OpenFOAM Foundation. OpenFOAM has gained extensive popularity in various areas of science and engineering within industry as well as academia. The software itself is highly capable when it comes to solving complex flow physics. It includes models to simulate fluid flows including chemical reactions, turbulence and heat transfer, solid dynamics as well as electromagnetic. Since OpenFOAM is an open source software it provies complete freedom to customise and expand its existing capabilities. OpenFOAM has following physics model
Incompressible flows
Multiphase flows
Combustion
Buoyancy-driven flows
Conjugate heat transfer
Compressible flows
Particle methods (DEM, DSMC, MD)
Other (Solid dynamics, electromagnetics)
For more information you can go to the link below:
http://www.openfoam.com/
Amazon Elastic Compute Cloud (Amazon EC2)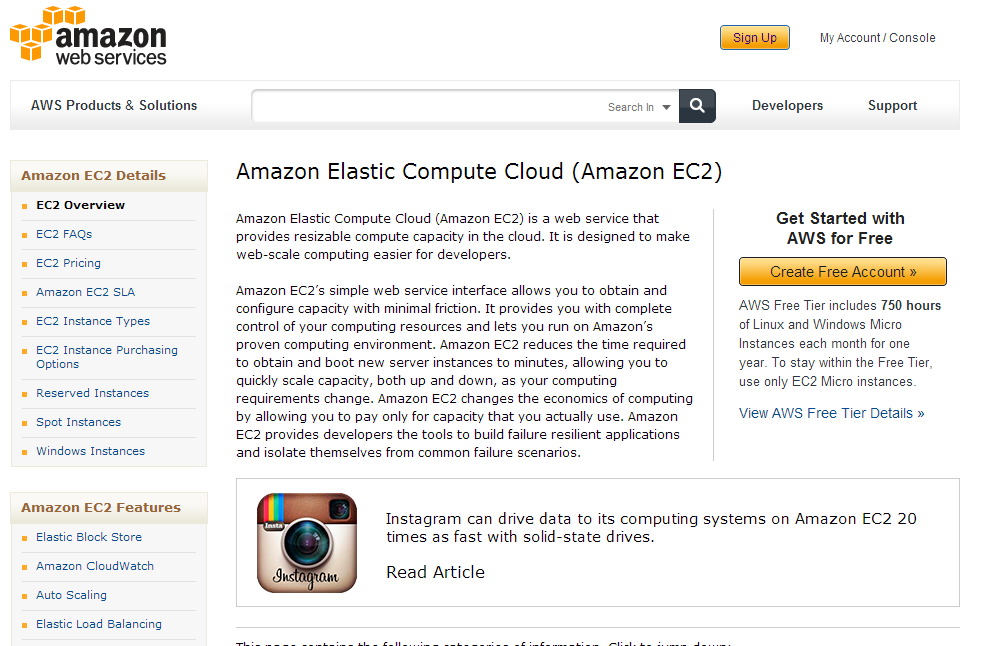 Few years ago Amazon introduced an interesting form of cloud computing service. Named as Amazon Elastic Compute Cloud (Amazon EC2) this is a web service that provides resizable compute capacity in the cloud. It is designed to make web-scale computing easier for developers.
For more information on amazons web services you can refer to link below: http://aws.amazon.com/ec2/
Commercial option for cloud computing :
Sabalcore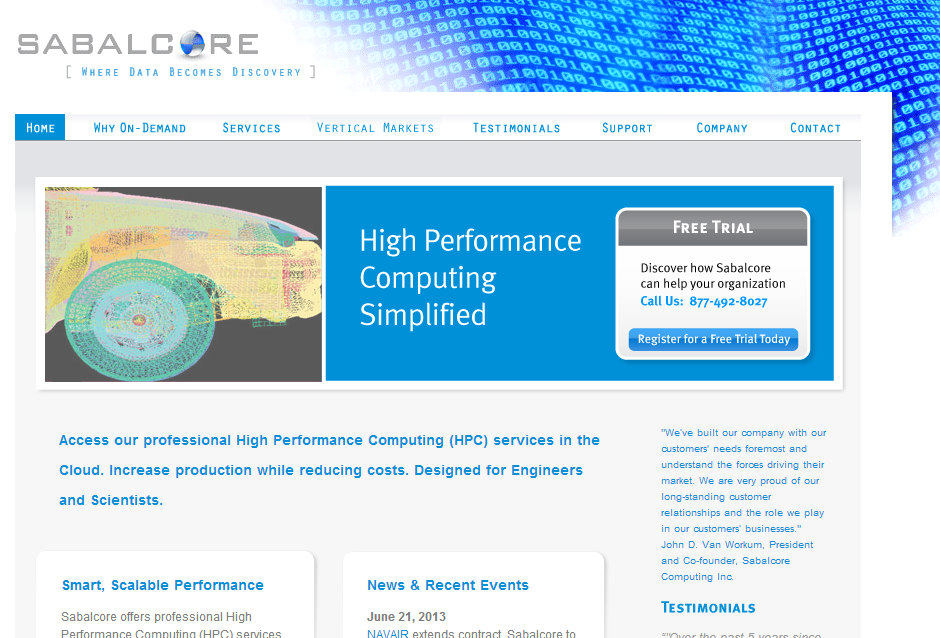 Commercial options within cloud computing come with high computational power trustworthy technical support and customized solutions. Sabalcore is one such cloud computing service provider. It has hosting facilities and support for OpenFOAM, CD-Adapco's STAR-CCM+, and ANSYS HPC (including Fluent and CFX.). It has on-demand services which run on Linux clusters.
For more information visit http://www.sabalcore.com/
STAR-CCM+
When we say cloud computing it is imperative to discuss a very interesting licensing option provided by STAR-CCM+. STAR-CCM+ from CD Adapco is an ideal example of a CAE product with a cloud inclined licensing scheme. The revolutionary Power-Session license enables us to run STAR-CCM+ on unlimited number of cores for a prepaid fixed licensing cost. Power-On-Demand is like a gateway to fully flexible computing with usage counted by the hour and not by the process or core, meaning that extra licensing capacity is available at times of high demand or when cloud computing is chosen. This is among the most flexible and cost effective approach within commercial options.
CAE Software as a Service
Software as a service is another area where CAE market or products are trying to innovate. Autodesk has an exciting service in this area. The service is named as Autodesk 360. Autodesk® 360 is a cloud-based service that provides free online data storage along with powerful, secure set of software for product design, visualization, and simulation. The services is mentioned with remarkable features like Secure and centralized storage, cloud based collaboration tools, unlimited computing power and flexibility in software access. Autodesk has varied line of CAE products like mechanical, CFD and plastic modelling and all of these are available through Autodesk 360. The Simulation 360 products are almost exactly the same as their desktop versions. Only difference is that the solution runs on server rather than local computer. When we press the "solve" button the mesh is uploaded over the internet to Autodesk cloud and then a simulation job is started with live feedback of the status of the simulation. Once results are obtained, they are downloaded to local workstations.
FIDESYS Online
CAE Fidesys is an easy-to-use and effective tool for performing a full cycle of engineering-strength analysis including loading a CAD mode and its analysis, meshing, setting loads and material mechanical properties, selecting and setting a FEM-solver, model calculation, and results visualization. The product is provided by FIDESYS, LLC, founded in 2009 by experts and graduates of Lomonosov Moscow State University, Department of Mechanics and Mathematics. Fidesys online is the cloud computing solution of Fidesys. The Fidesys Online web service allows carrying out deformation mode analysis for articles under static loads. One needs only web browser and Internet connection. Its features include below capabilities:
Calculates the stressed-deformed state of a body under a static load.
Utilizes the finite-element method for calculations.
Makes it possible to calculate a model with up to 100,000 nodes of finite-element mesh.
Visualization of CAD-model calculations and results are made in a cloud.
Results can be uploaded later to the user's device in a VTK-format.
As it is a new product it has several comparative advantages for early users:
No cost to use;
Cross-platform;
Operates without additional software installation;
Low requirements to the client's computing resources;
Can be used anywhere in the world
Available almost any device with the Internet connection;
Offers a range of detailed samples with a calculation-parameters set and a step-by-step user guide on the package features;
Features a five-language interface: Russian, English, German, French, and Turkish
From the overview of various cloud computing products and services available in the market it certainly looks like could computing is here to stay in the field of CAE. The future certainly looks clouded if I'm permitted to write some annoying pun here! There are exiting new solutions which will be launched in the future as well and we will continue to review them as part of our blog series.
Video Demos :
1. STAR CCM + power on demand license demo:
http://www.youtube.com/watch?v=thfmbo7E7s0
This short video clip shows how easy it is to setup power on demand license session in STAR CCM+. The user simply has to open a STAR CCM+ over any node or machine and then input the power on demand license key and the hours of simulation time becomes available for current session.
2. Fidesys online Demo :
http://www.youtube.com/watch?v=ZhBayG2KK90
This short video is a demonstration of Fidesys Online structural modelling cloud based software. The process is simply based on internet browser and the user can work right from generating mesh, setting up boundary conditions and materials till the end results and share the results as well.
---
References :
We would like to acknowledge below references which helped in writing this blog :
http://www.cd-adapco.com/
http://www.sabalcore.com/
http://online.cae-fidesys.com/
http://aws.amazon.com/
http://www.openfoam.com/
---
The Author
---
{module [317]}
---