The internal carotid arterial walls are soft tissues which can be considered to be a hyper-elastic material that can hear a maximum pressure difference of (6L) MPa (where, L is the length of the carotid artery) just before rupturing. What is the maximum allowed pressure amplitude of the second reciprocating pump to avoid rupturing ?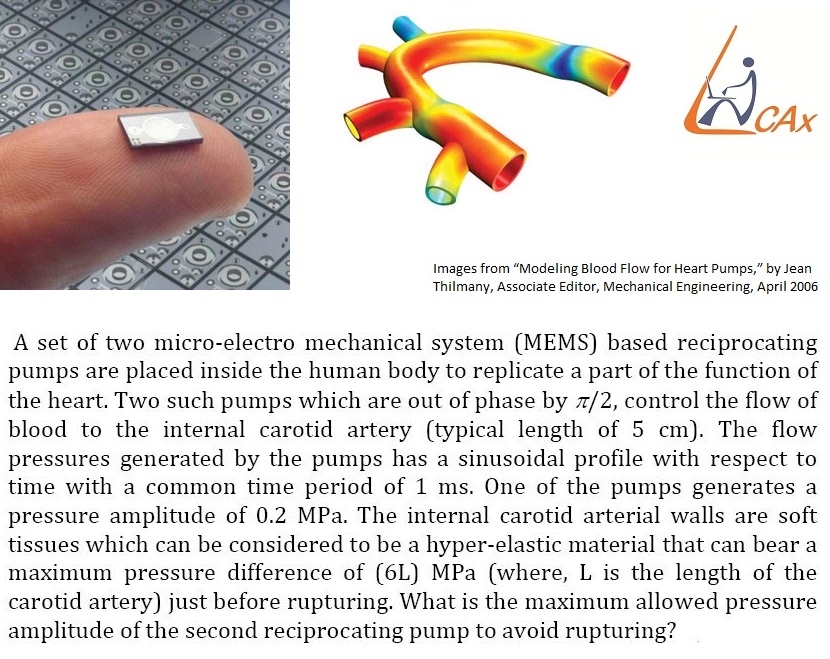 This LearnCAx quiz will test you basic fluid mechanics concepts. Please submit your answer at info[at]learncax.com. Top Winners would get LearnCAx T-shirts !!!
---
The Author
---
Dr. Ganesh is a leading researcher in computational engineering, sustainable energy and its application in process industry. He has done immence contribution in LearnCAx. Before he joined post-doctoral fellowship at IIT Delhi, he was the general manager at LearnCAx. He was instrumental in conceptualization, development and implementation of online education from CCTech for CAx professional. Ganesh has a number of publications both in international journal and conference proceedings. Before CCTech, he held the position of Associate Scientist in solar thermal division at Sardar Patel Renewable Energy Research Institute, Anand.

Ganesh holds Ph.D and M.Chem. Engineering from Department of Chemical Engineering, Institute of Chemical Technology, Mumbai (formerly UDCT Mumbai).
---